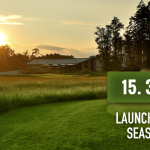 Dear Members:
We are pleased to announce that the Penati Gold Resort opens on 15 March 2014 and is officially launching the 2014 golf season.  Please note that only the first eighteen-hole LEGEND COURSE will be operating, while the second eighteen-hole HERITAGE COURSE is scheduled to open later in the season due to ongoing technical maintenance.  We will let you know the exact date when the second eighteen-hole course will be open.
Al Dente on the Green Restaurant opens at the same time on 15 March 2014 with normal operating hours.  We recommend members to check www.penatigolfresort.sk in case of unexpected worsening weather conditions which would force the resort's opening date to be pushed later.
Our staff members are also available at the club reception desk to verify the opening date for the resort - Reception:  +421 917 907 777, +421 34 39 79 777.  We believe that the gods of golf will again bless us this year and the resort will open on the announced date.