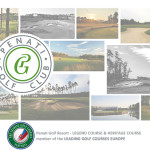 The beginning of the year saw the release of the current 2014 Top 100 Golf Courses of Continental Europe, with 246 courses in 19 countries in Continental Europe competing to be included in this renowned, independent rating.  For the first time in the history of Slovak golf, a course from Slovakia has been ranked among the best European courses.  The Penati Golf Resort and its 18-hole Nicklaus Design Legend Course was in 97th place, entering as a newcomer in intense competition among the almost 250 of Europe's major courses that were being evaluated, an outstanding achievement on any scale.
The Nicklaus Design Legend Course found itself included on the published list in the company of the top courses in France (19), Spain (15), Portugal (11), Sweden (10), Italy (7), the Netherlands (also 7), Germany (5), Denmark (5), Turkey (4), Belgium (4), Austria, Switzerland, Norway and Finland (all 2), and Greece, Estonia, Bulgaria and Cyprus (1 apiece). Among the top 100 courses, only three countries in Central Europe are represented: Germany, Austria and Slovakia.  Ranked among the top in neighbouring Austria are Fontana (49th) and Adamstal (70th). It is remarkable that the Czech Republic, rich as it is in golf courses, failed to have any of them included in the ranking, and neither can any of Poland's courses be found in this European league table.
To be on a list of Europe's top courses along with the world famous Morfontaine, Son Gual, Valderrama and PGA de Catalunya is exceptional recognition for the Penati Golf Resort and another sign of Slovak golf's successful visibility abroad.  Considering the challenging criteria, where the course's history, organisation of international events and references from guests also carry significant weight in the evaluation, such a young project as the Penati Golf Resort having made the cut can be seen as an extraordinary success story.  


The detailed list and information about the evaluation of the 2014 Top 100 Golf Courses of Continental Europe can be found at www.top100golfcourses.co.uk