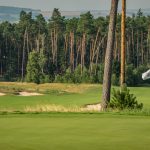 Play on
3 golf courses
, each offering
a different golf experience
– our iconic Legend Course with the longest hole in Europe, our splendid Heritage Course and, the interesting links type 18-hole course in the Golf Resort Skalica situated in the king town of Skalica.
Balance the sports experience with uncovering unique treasures of the region. Visit vineyard cellars, so-called "huts",
and
taste good wine
on the Záhorie wine route in Skalica vineyard area. Red wine is characteristic for this area, mainly Blaufränkish and branded Skalica Ruby, but species of white wines are also grown here. You can taste them directly in the restaurant of the Golf Resort Skalica, ideally during good dinner and romantic sunset, after finishing your golf play.
Learn how to bake "Skalica trdelník" (a kind of spit cake)
and experience the production of this traditional delicacy of the Záhorie Region directly at "U Havlíkú", where "trdelník" delicacies have been baked for decades. This tradition is inherited from father to son, and visiting them is a real experience.
Familiarize with the production of traditional brandy in the Záhorie Region
in some of near small stills, and you will find, how tasty "hard drink", (the so-called "ostrô") was produced in this region within living memory. You will be involved in the traditional tasting (the so called koštovka), and you will leave not only with a good temper but also with a rich hamper. And did you know that excellent beer is brewed in the Záhorie Region? In the Sandorf brewery situated in the village of Prievaly, you will see it including tasting various kinds of beers. The first beer spa in Slovakia is the icing on the cake, where you will not only have a bath in beer, but you will drink it during a bath. One weekend will not probably be enough for you, so be free to repeat it several times.
Golf in the Záhorie Regional Cluster on sandy dunes embraced with flavored pine forests and rich offer of leisure activities will never pall on you.