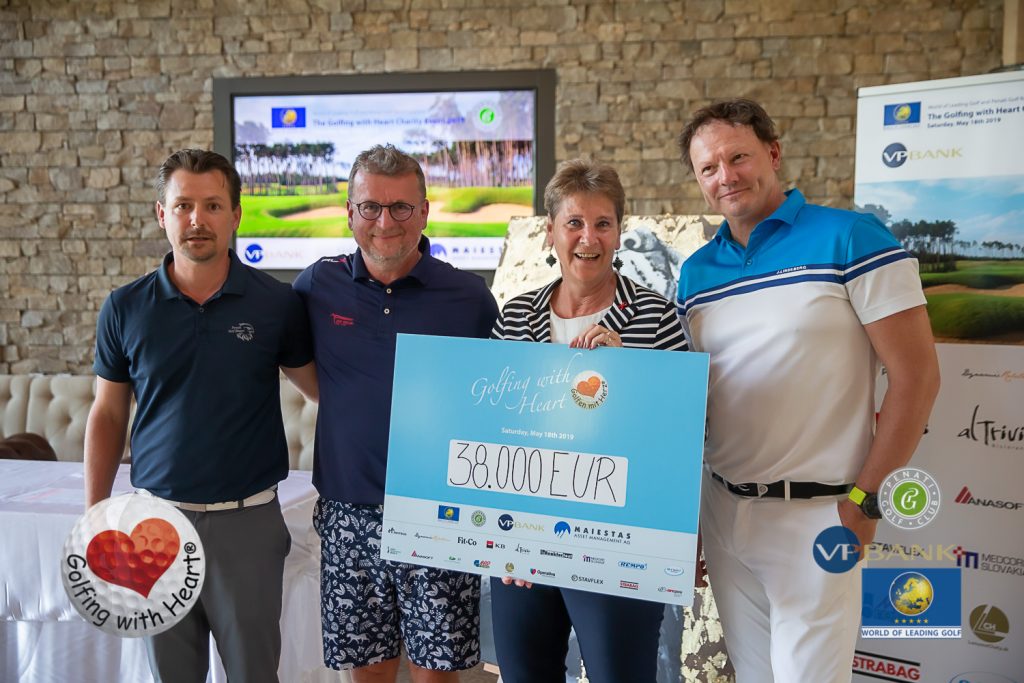 On Saturday, 18 May 2019
 at Penati Golf Resort at the HERITAGE COURSE
 the fifth annual
 popular charity tournament 
GOLFING WITH HEART 2019
 took place.
Earnings from the tournament are given through the Good Angel (Dobrý anjel) Foundation to children and families afflicted by oncological illness.
Each year, the tournament takes place under the auspices of
 Ing. Ján Tomáš
, member of the board of directors of the Foundation for the needs of children and young people suffering from cancer - GOLFING WITH HEART. 79 players took part in the tournament. Most of them were members of Penati Golf Club. 18,000 euros was raised. That amount included proceeds from an auction, which is an attractive addition to the charity event each year. Auctioned off were an ice hockey stick and a cap from the STANLEY CUP signed by MARIÁN HOSSA, a painting for hanging on a wall by ZDENKA SEBÖK TAJBOŠOVÁ, a glass heart by ACHILLEAS GLASS, and an outstanding Bordeaux wine - CHATEAU MOUTON ROTSCHILD by PREMIER WINES.
The total contributions raised are doubled each year by the main partner of the event - VP BANK from Liechtenstein. 
They contributed EUR 20,000, and so 
a wonderful 38,000 euros is going to Good Angel this year.
In the invitation to GWH 2019 we stated, "
May is the time of love, and love can be expressed in various ways. That includes fellowship with those dealt a bad hand by fate affecting what's most valuable - their health."
Thanks to golfers with a big heart we managed to achieve our common aim this year as well. We got there with a good mood and playing some good golf.
A heartfelt thank you 
to all of the "good angels" - direct participants in the tournament and also the event sponsor. We are looking forward to the 6th annual charity tournament - 
GOLFING WITH HEART 2020.